Yoke Pads
Pads also available to pick up from the shop in Ely (1568 McMahan Bvld, Ely, MN 55731) or Grand Marais at Stone Harbor Wilderness Supply (218) 387-3136 22 E 1st St, Grand Marais, MN 55604.
Standard Yoke Pads
Bolts on, fits flat, wider curved yokes, up to 7/8" thick. - $90
E-Standard Yoke Pads
Bolt on, bolts even closer together, almost horizontal, for yokes up to 7/8" thick. This pad fits most flat wood yokes on the commercial market today. - $90
Aluma-Yoke Pads
Bolts fit most aluminum yokes up to 1 1/2" thick. - $90
Adjustable Pads
(photo at left) Clamp on, no holes required, adjusts to accomodate different shoulder widths. Features 5/8" unfinshed plywood with outer 1/4" aluminum bar to form a clamp, tightened with stainless steel bolts, washers and wing nuts. Fits flat yokes up to 3" wide, 1 1/2" thick.
Standard Adjustable Pads: 4" x 8" pads- $95
Lightweight Adjustable Pads: 3" x 6" pads - $90
Anatomy of a Bourquin Boat Yoke Pad:

1. Vinyl Covering

2. 4" High Density Foam

3. ½" Closed Cell Foam.

4. Stainless Steel Machine Screws

5. 5/8" Underlayment Plywood
Yoke Pads Feature: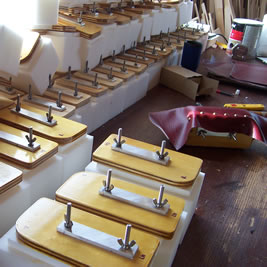 Vinyl Covering: Waterproof and durable, prevents foam from absorbing water. Attached with brass upholstery tacks for easy replacement when worn.
4" High Density Foam: Compressed to 2 1/2" during construction. This layer provides superb comfort while portaging.
1/2" Closed Cell Foam: Provides extra padding from bolt heads for sensitive shoulders. Glued to both the plywood base and 4" foam to prevent slipping.
5/8" Underlayment Plywood: Rounded corners for comfort. Spar varnished for protection and longevity.
Bolts, Washers and Nuts: Stainless steel to resist corrosion.
All styles available in Green, Tan, and Brown.
If you know what you want please click here to order from our Square Space Account:
bourquin-boats.squarespace.com/yokepads/.
If you have questions you can call Jeanne direct and order over the phone. 218-365-5499.
This is her home phone so please, 8am-6pm.
You can leave a message if she is not home and she will call you back.
You can also email her at bourquinboats@hotmail.com
All prices are subject to change without notice.