Links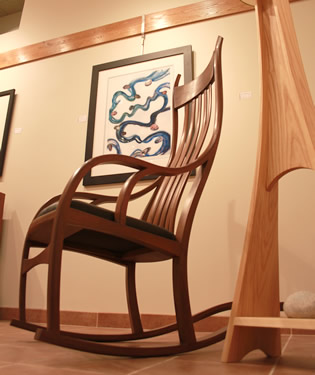 Chair by Peter Pestalozzi, Odyssey Design Works, Painting by Jeanne
Odyssey Design Works
I share my shop with my husband, craftsman Peter K Pestalozzi. Peter designs and builds custom furniture often inspired by by his years of kayaking on Lake Superior. He's also great assistant when I'm working on canoes!
Other Builders/Repairers
(some sell supplies as well)
Island Falls Canoe
Jerry Stelmok, Atkinson, Maine. Jerry builds on the original EM White Forms, my teacher, teaches at Wooden Boat, does repairs, builds w/c sailboats, paints murals on w/c canoes, writes, watercolors, draws, tells jokes … not so good at tying knots.
email: Islfalls@IslandFallsCanoe.com
220 S. Stagecoach Road, Atkinson, ME 04426
207-564-7612
Northwoods Canoe Company
Rollin Thurlow, Atkinson, Maine Builder, repairs and teaches classes. Also sells supplies:
Canvas, filler, stembands, tacks, whole kits so you can build your own canoe.
336 Range Rd.,Atkinson, ME 04426
207-564-3667
Dan Strootman
Danncraft Canoes, Sunburg, MN. Builds and repairs, also teaches classes at North House Folk School.
email: danncraft@tds.net
13390 20025 Ave. NW, Sunberg, MN 56289
320-366-3697
Wayne Fredrickson
Canoe Repairs
Ely, MN
218-340-4663 (cell) or 218-365-7889
Stewart River Boatworks
Alex Comb, Two Harbors, MN. Builder, repairs.
email: acomb@frontiernet.net
PO Box 297, Knife River, MN 55609
Ph & Fax 218-834-2506
V&L Strippers
Ask for Vinny and tell him I sent you. 920-731-711
These guys do a really great job of stripping the varnish and/or paint off that old canoe. Appleton, Wisconsin. I'll drive 7 hours to have them strip my canoe before I'll do it myself. Call ahead for an appointment and they can do it in 2-3 hours while you wait. Well worth the trip, and the money. Wrap your canoe for travel. (Paint takes more time and costs more.) Take the ferry across Lake Michigan and make a vacation of it.
Suppliers of Parts and Accessories
Shaw & Tenny
paddles, oars, seats, pack baskets, and other canoe accessories
PO. Box 213W. (20 Water Street) Orono, Maine 04473
Phone: 207-866-4867
Toll-Free: 800-240-4867
Essex Industries
Canoe seats and accessories
P.O. Box 374 Mineville, NY 12956
Phone: 518-942-6671
Fax: 518-942-3034
H.H.Perkins
Cane for making canoe seats
222 Universal Drive North Haven, CT 06473
Phone (800) 462-6660
Fax (203) 787-1161
Jamestown Distributors
Marine Supplies, Fasteners, Paint.
17 Peckham Drive, Bristol, RI, 02809
800-497-0010, or 401-253-3840
Fasteners
505 Lake Shore Blvd. Painesville, OH 44077
440-357-5546 FAX 440-357-7137
800-782-3278
Yoke Pads
Boundry Waters Journal
Sells my Yoke Pads
9396 Rocky Ledge Road, Ely, MN 55731
Phone 1-800-548-7319
Northwest Canoe
Yoke Pads, repairs gunwales, some supplies for builders, strip canoe plans, voyageur canoes for camps.
St Paul, MN
651-229-0192
Piragis Northwoods Company
Yoke Pads, gear, BWCA outfitting, used canoes,clothing, exotic adventure travel.
Ely, MN
800-223-6565
Rutabaga
Outdoor store, Madison, WI, sometimes sells my Yoke Pads
220 West Broadway, Monona, WI 53716
Toll Free: 1-800-I-PADDLE or (800) 472-3353
Local: (608) 223-9300 Fax: (608) 223-9303
Stone Harbor Wilderness Supply
Yoke Pads, kayak and canoeing gear, clothing, tours, rentals, on Lake Superior in Grand Marais, MN
Grand Marais, MN
218-387-3136
Organizations
Wooden Canoe Heritage Association
Historic Catalogs, Builder's Directory, Wood Canoe Events, Local Chapter News
PO Box 117, Tamworth, NH 03886
603-323-8992
North House Folk School
Classes in building and repair of Wood/Canvas canoes and just about every other fun thing you could think of learning to do the old traditional way. Timber framing, baking bread, mosaics, basket weaving, sailing …on Lake Superior, very pretty….
P.O. Box 759 Grand Marais, Minnesota 55604
1-218-387-9762 Fax: 218-387-9706

YMCA Camp Widjiwagan
Tripping Camp and Family Camp in Ely, MN. Ages 12 and up. Uses Wood/Canvas Canoes. Widji has a strong take care of the environment, yourself, your companions, and your equipment (ie your wood/canvas canoe) ethic… so if you send your kids there you'll be camping the 'Widji Way'. The kids do progressively harder, longer trips, ever farther North, until as High School graduates the 'Voyageurs' do a 5-6 week trip in the Arctic. This is where I got started paddling and working on canoes.