Classes
"Build Your Own" Canoe Building Workshops In Ely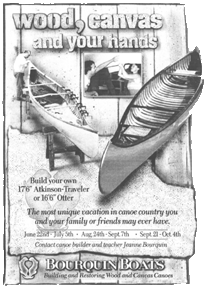 Every year there are a few customers who would like to build their own canoe, or who want to learn to build one before tackling their own at home.
After accidentally ending up with two couples in my shop at the same time one Fall, we figured out that its even more fun with company!
Please write or call for dates and times when I will be set up to help build one Otter/Lutre and one Atkinson Traveler.
How it works
Before you arrive, I mill the rough lumber. You put the canoe together with as much, or as little help as you need from me. We canvas, fill, and put on the gunwales the last two days, and then the filler needs to cure for 3-5 weeks. You take your canoe home to do the final steps of painting and varnishing. I supply the paint, varnish, and directions, you supply the sandpaper, brushes and elbow grease.
The Cost
The cost of a two week workshop is the same as the price for purchasing a finished canoe. Two people per canoe is probably optimum, but you can come by yourself, or bring two or three friends or family members - the price is the same.
Lodging
We generally work from 9 to 4 or 5 daily and you find your own accommodations in the Ely area. Within a few miles are beautiful campsites, luxurious resorts and rustic cabins. The Grand Ely Lodge (pool and dining room) is across the lake from me so you could even choose to paddle to work every day. The Ely Chamber of Commerce telephone number is 218-365-6123 and they will be happy to help you arrange for accommodations.
No Experience Necessary
All of the steps are simple enough for anyone to do. I will ask you to sign a release form that acknowledges the potential danger of working with hand and power tools and you should have your own medical insurance. If you feel uncomfortable about the safety or just don't want to do something, I will step in whenever you need me.
North House Folk School
The North House Folk School, located in Grand Marais, Minnesota, offers a variety of boat building courses, including courses on wood-canvas restoration. Jeanne is on the schedule to teach a "Build-Your-Own" Class at NorthHouse in 2012 in May and August. Only 2-3 canoes max in each class so sign up early.